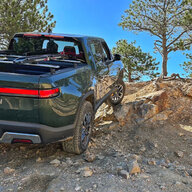 First Name

Aaron
Joined

Feb 6, 2022
Threads
Messages
Reaction score

510
Location
First Name

Aaron
Vehicles

MINI Cooper SE, 4Runner, C6 Corvette GS
Occupation

Software Engineer
I had my First Mile Mobile Drive today. I'd gotten to crawl around the truck during the Denver open house already, so really I just wanted to get out and drive rather than poking around the truck for much of the experience. Obviously it's fast AF off the line and seems to launch harder with the current software version than when I got the ride along at the open house. I'm lucky to live close to a fantastic canyon road and got to drive up there.
I know we've heard from a lot of the reviews that the lowest ride height is not good, but even in Stiff and Low I was surprised by a few things. Over big bumps / hard impacts it was well damped and seemed fine. But what was really strange was over smaller bumps or undulations in the road (Sport / Low / Stiff) the suspension seemed very underdamped and the rear end tended to pogo/oscillate for a second or two. That's really disconcerting at speed in the twisties. Any owners or other test drivers experience something similar with the suspension damping? If the damping is truly software adjustable, I can only imagine they should be able to tune this a bit better for high frequency bumps...especially in Sport mode. That all said, I was impressed with the throttle map in Sport and even in Conserve the truck still has plenty of power. It's also blatantly obvious that the 34" ATs let the truck down in the handling department. I really hope they eventually allow us to buy an extra set of wheels to throw some sportier rubber on when we don't want to go off-road. Yes, I'm aware the 22s are a thing, but I will be replacing my 4Runner that sees plenty of off-road trails, so I do want to the 20s right off the bat.
The turning radius does seem to be a little larger than my 4Runner, which is expected, but for a 135" wheelbase I guess I was pleasantly surprised that it wasn't larger still. I did note the throttle mapping / feel that others have mentioned in reverse related to the Hold feature. It's definitely difficult to modulate off the hold in reverse without the truck wanting to lurch before being able to maneuver slowly. Obviously that's an issue for those who back into tight garages / parking spaces. Audio system is every bit as good as other reviewers have mentioned, especially when you crank up the quality setting in Spotify. I hope they add the ability to download playlists to the truck and/or give us CarPlay. Much of my drive was in an area without cell coverage and all we could use was the FM radio...though I spose you could use Bluetooth, but the quality isn't great by virtue of the protocol's low bitrate.
All in all, good experience, but the suspension pogoing has me curious and a little concerned. Drove about 22 miles and averaged 2.47 mi/kWh with a slightly spirited canyon drive. IIRC, I was seeing around 0.9 mi/kWh on the way up and the last 15 min graph shows 3.36 mi/kWh on the way down due to all the regen.