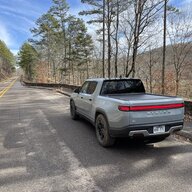 First Name

Matt
Joined

Aug 31, 2021
Threads
Messages
Reaction score

219
Location
Vehicles

F150, Explorer, Corvette C6
First time EV owner here. Took delivery of R1T at factory and my first drive was a 500 mile trip home from Normal. I've read about every post on this forum over the last 18 months and watched countless R1T YouTube videos, so I was familiar with the R1T but had never driven EV other than 20 min First Mile test drive. First impressions:
I didnt just have range anxiety - I had charging anxiety since I had never even operated an EV charger. This turned out to be very easy. I setup EA and ChargePoint accounts in advance. All of the chargers I stopped at were available and in working order. The EA chargers (Walmart) pushed 150kW and were "complimentary". Does this happen a lot? Can you search for complimentary charging stations in the app?

The ChargePoint was slower at about 80kW and the owner charged a $0.20/min surcharge but didn't have many choices at that point.
At the end of the 500 mile trip, I was only out of pocket about $20 for fuel.

The Rivian navigation software worked flawlessly for me. After reading complaints, I was prepared to use phone apps but really didn't need to. The mapping was accurate and it tried to route me around two traffic jams but I was too stubborn to follow the directions.

I couldn't figure out how to enter intermediate waypoints?
it gave me time and distance to next charging stop but not to final destination. Is this a setting I'm missing?

The adaptive cruise control engages the vehicle in front way earlier than I thought it should. Is this distance adjustable? It would be nice if it gave you a subtle warning and time to change lanes before it auto adjusts your speed.
i never got comfortable with Driver Assist…played with it some but it seemed to add stress - especially in traffic - rather than make it easier.
The acceleration is unbelievable! Makes on-ramp merging, lane changing, and passing very easy
Make sure you have a USB-C iPhone charging cord. I missed this little detail and quickly found nowhere to plug my antiquated USB charging cord. Had to make a stop on trip and upgrade my phone charging cord.
The vehicle performed great and trip was easy. It was fun way to get acquainted with all of the features. I never let SOC get below 25% due to anxiety and trust issues, but will be relaxing that now that it's more comfortable. This should be fun!