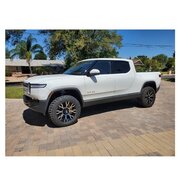 Joined

Oct 17, 2021
Threads
Messages
Reaction score

939
Location
Vehicles

This one, that one and the other one.
I haven't gotten around to gathering the details of my last road trip. Some good data that I will share when I get some free time. (teaser photo below)
But, wanted to share a charging issue that may be helpful to some in the future....
My first time trying to charge at an Electrify America charger a few months ago was a challenge. I have a prior post regarding that scenario. Simply put, charger had to be rebooted and it eventually worked after 30 minutes on the phone with them.
I've been fortunate that I hadn't had any other issues with charging since then, until Friday night.
Took a nearly 400 mile trip up north. Stopped once to charge along the way with no issues. Was a complimentary session, which was a pleasant surprise, saving me around $35. Turns out, it was apparently complimentary for everyone at all chargers over the weekend, so my entire trip was free of charge.
I arrived to my location, which was close to a charger. Went to charge the truck then go to dinner while it charged to 100%, to get me most of the way home the next day. Tried 6 different chargers at that location and none of them would work. On the phone with EA and they rebooted two machines (four charger plugs). No luck. Others were charging at the same location. Was going to wait for one of them to leave and try one of those chargers since they were clearly working.
Finally, the EA representative on the phone basically gave up and said, "I can't help you", "sorry", and added a complimentary session to my account for future use.
I then decided to do a full reboot of the truck after about 45 minutes of trying multiple chargers and going in circles getting nowhere. Did the full reboot (hazards / left button). That did the trick and was finally able to charge.
So many have had individual issues with EA chargers. In this case, it was the truck that was the problem for some reason. Another learning experience. Next time I have issues, I now call EA quickly. Now I will include a truck reboot into my troubleshooting so I don't waste so much time next time I have an issue.
Stopped once on the way home the next day and had no issues. But was reminded at how delicate this network can be. Arrived at my charge location to find three of the four chargers out of service. Would have been a challenge had the one charger not worked as I was pretty low on range. Interesting, the Rivian app sent me a notification while driving that my range was low. The annoying part was looking across the parking lot at some 20 Tesla superchargers sitting there, likely all working just fine. I hope Rivian has the charging network high on their priority list. The supercharger network was what made it possible for Tesla to succeed. Rivian could benefit equally as much if they can get a solid network of Rivian chargers built up.
Strange thing is, I was lucky at my first charger on the way there. The screen was completely sandblasted and couldn't read a thing on the screen. Knowledge told me to always plug in first. I then swiped my phone as I remember doing that at a prior session. I did that and the truck started charging. Figured, my experience saved me in that case. Little did I know that it was a complimentary session and the truck just happened to start charging on its own once plugged in. So, no clue what would have happened at that charger if it had not been complimentary since you couldn't see anything what so ever on that sandblasted screen (in the desert). Probably dodged a bullet in that scenario. Guess EA needs to starting thinking about how to protect their screens in high-wind desert areas.
I was happy to see on one of my charging sessions at a 350kw charger that it peaked at around 210kw on the screen. Was down to 202kw by the time I grabbed my phone to take a photo (see below)
One on the right said charger unavailable. One on the left was powered off.
Was missing my Tesla when I couldn't get the truck to charge.......
202kw charging rate (peaked at 210kw)
CHECK OUT THESE NUMBERS!!! (This was at 4:00 in the morning)