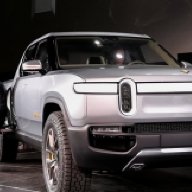 Joined

Feb 13, 2019
Messages
Reaction score

485
Location
Vehicles

Subaru Outback XT LTD
Info on interior design.
https://bit.ly/3wMZ5a3
Auto Inspire Interview: Richard Vaughan, Rivian's Luxury Expert
"You'd be hard-pressed to think of a part of the vehicle that consumers can see, feel or touch that I haven't worked on," says Richard Vaughan
It's difficult to imagine someone who knows more about automotive luxury than Richard Vaughan.
He's written six books about Bentley, Rolls-Royce, and Aston Martin luxury cars. He designed the first fullsize luxury SUV, the 1998 Lincoln Navigator, which spawned an entirely new segment of huge luxury vehicles in the U.S. And he's a nationally known collector of British luxury cars, from relatively recent models all the way back to the 1950s. But his biggest professional accomplishment is achieving something most of us only dream about: He's turned his personal passions into a career.
His day job is Director, Crafted Quality at EV startup Rivian, where he leads the teams responsible for perceived quality, design quality and craftsmanship for all Rivian vehicles and adventure products. It's his job to make sure every inch of real estate in a Rivian vehicle oozes the same attention to detail as the best luxury vehicles in the world.
These are the things that have fascinated Vaughan his entire life, from being an actual luxury vehicle designer to working in the supplier community developing digital displays and human-machine interfaces.
"I can't think of a time when I wasn't totally excited about cars and I think the earliest pictures of me in diapers with a pacifier are standing in the seat of my father's 1968 Camaro holding the steering wheel pretending to drive," he says during a recent Automotive Inspire interview.
Watch the entire interview here and see the favorite cars in Richard Vaughan's collection of Aston Martins, Bentleys and Rolls-Royces.
Auto Inspire Interview
By the time he was 5 he was drawing cars all the time. When he was 14, someone gave him a copy of
Ebony
magazine (a major monthly magazine focusing on news relevant to the African American community) featuring a story on Black car designers who were rising through the ranks at automakers.
It featured McKinley Thompson Jr., the first African American automotive designer in the U.S. and the first at Ford Motor Co. where he worked on the early generations of the Ford Bronco, Mustang and numerous other vehicles; and Edward Welburn, who was manager of the Oldsmobile design studio at General Motors. He would become the head of Global Vehicle Design at GM from 2003 to 2016, the first African American to hold the post once held by industry legends Harley Earl and William Mitchell.
Rest of the article:
https://www.wardsauto.com/industry-...erview-richard-vaughan-rivian-s-luxury-expert
Last edited by a moderator: