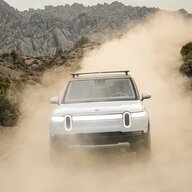 First Name

Mark
Joined

Feb 17, 2020
Messages
Reaction score

184
Location
First Name

Mark
Vehicles

1981 Volvo wagon; 2006 Tacoma SR5; 2009 Toyota Prius
Here's a fairly persuasive Bloomberg article on the Chicken-and-Egg problem associated with BEVs: major OEMs aren't motivated to produce many BEVs until people buy them in large numbers, and people aren't incentivized to buy BEVs in large numbers until they cost less and are easy to charge.
https://www.bloomberg.com/news/feat...hargers-will-determine-america-s-green-future
Posing the issue as a chicken-and-egg problem, as Bloomberg does, is not entirely accurate. There are BEVs, like the Chevy Bolt and Nissan Leaf, that are affordable and, for most of our driving needs, BEVs are functional and practical.
BEVs embody new technologies - electrification, connectivity, and autonomous driving, to name only the most obvious. There's a well known model, originally advanced by Everett Rogers, for how likely new technology products will diffuse. The model says there are five well defined groups of consumers. Innovators, about 2.5% of the population, buy new technology products early; they're geeks and like to tinker. They're followed by early adopters, 13.5%, the early majority, 34%, the late majority, 34%, and laggards (Luddites), 16%.
This is a normal distribution, a bell-shaped curve. One could question if BEV adoption will follow a normal, bell-shaped curve but, assuming it does, there's no agreement on how smoothly consumers will adopt new technology products. In other words, timing of movement through the curve can be a problem. The step between early adopters and the early majority is a big leap forward. The argument goes the early majority come on-board when two milestones are met: costs come down greatly, and industry-wide standards become common. This is another chicken-an-egg problem. Makers won't scale production until a large buying public exists, and a large buying public won't exist until prices come down and there's agreement on how products work. Think of Android phones as an example.
Rivian isn't going to solve the chicken-and-egg problem. It's a small producer. Even when the Normal plant operates at full capacity, it will only produce about 250,000 vehicles in a year. That's a drop in the bucket for the global auto industry.
Oddly enough, however, the distinctive look of Rivian vehicles, including Amazon Prime vans, may help to overcome market resistance to new technology products. Their distinctive looks and equally distinctive performance will likely have an outsized impact on the market, but it's not a one-pony race.
Tesla has likely attracted all of the innovators and most of the early, early adopters. If true, this explains why the Jaguar i-Pace and Mercedes EQC have sold in such small numbers. They're not bad vehicles - in fact, just the opposite - but at this point in the Rogers' curve, Teslas rule. Tesla offers a choice of vehicles, a large and growing SC network, and plenty of ownership experience with respect to service, maintenance and reliability. In a world where there aren't that many innovators and early, early adopters, they buy Teslas.
We only get into the meat of Rogers' bell curve - the early and late majorities - when battery costs as a percentage of total vehicle costs come down significantly. A build-out of the charging network will not be a major factor in BEV adoption, as the Bloomberg article suggests. There's more than enough chargers, at home and in major urban centers and corridors, to reach an early majority stage. The size of the rural population and their lack of charging service are not major obstacles to BEV sales. That's not the chicken-and-egg problem. Battery costs are. Battery costs will drive the rate of BEV adoption by early and late majorities.
Or so I opine. What do forum members think?