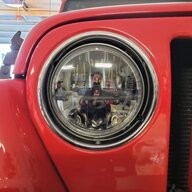 First Name

Rob
Joined

Nov 13, 2020
Threads
Messages
Reaction score

1,673
Location
First Name

Rob
Vehicles

Jeep TJ. Model S.
One of the things that bugged me after receiving my Rivian was the lack of small, concealable storage that was easy to access. There is a a fold out drawer in the seat but that is a pain to access, and the center console was convenient, but cavernous. I figured a little tray or so would work, so I purchased this -
It's a small tray designed for an older Toyota Tacoma which has a console with a similar interior sized. Long story short - it works, but I wouldn't use it.
It installs, but it's just too tight. Getting it past the wings was nerve wracking and I have no idea on how I'm going to get it out now. Those issues however, aren't the biggest thing - while it's helpful, it's not as helpful as what it should be. Having used it now for a week or two, I've developed some thoughts about what is needed for a good design here:
There should be a top tray, like what is shown here, but it should be slideable and quickly removable.

It maybe should have dividers in it for stuff like coins and whatnot, although this is very much up for debate.
It should probable install by being dropped in and twisted 90 degrees. It would have thin flaps to each side to use the driver and passenger tops of the console walls to hang. (very open to ideas here)

The well of the center console is deep enough where it could potentially be divided into three sections:

A bottom section for general unfrequently used knickknackery.
A mid section for more frequently used larger items.
A top section where the sliding tray is.

A good dividing line would likely be where the 45 degree angle for the USB-C.

I'm thinking there could be a removeable shelf here assuming a small frame underneath.
This shelf/tray thing should be pretty porous to ensure that the light from above can shine through.
It should have a hole in it where one could slip a digit into it and pull it out to access items underneath.

Use of the retaining strap should be kept so it can hold the manual, registration / insurance documents.
I think I might design something to be 3D printed, like I did with the sunglasses holder. Before doing so, I want to soo what people though. Same deal with the sunglasses holder - if enough people are interested, I may be willing to setup a limited production run. This would likely be a bit more expensive though as there is more to it.