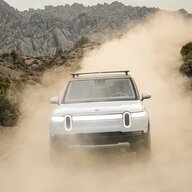 First Name

Mark
Joined

Feb 17, 2020
Messages
Reaction score

314
Location
First Name

Mark
Vehicles

1981 Volvo wagon; 2006 Tacoma SR5; 2009 Toyota Prius
I found this on Forbes and it's useful if you're thinking about camping with your Rivian and using RV parks, as it talks a lot about charging options.
https://www.forbes.com/sites/bradte...oad-trip-in-a-tesla-or-other-ev/#28b7e13647bb
My guess is we have a lot of collective wisdom on the theme of EV camping, and since this is a Rivian forum, maybe we could begin aggregating what we know. I'll start. There are various charging options, some increasing in number and some not. If I wanted to pack the
2-3 most likely to be used charging adapters for my first Rivian road trip, what should I pack?
Maybe folks could make recommendations in other categories, such as chairs, tables, tableware, air matresses, tents. Or maybe different threads for different categories of gear, but my point is: as a forum, we know a lot.
How can we best make that collective knowledge available to all?