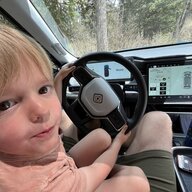 First Name

Sam
Joined

Sep 12, 2021
Threads
Messages
Reaction score

821
Location
Vehicles

This field needs to be bigger, I'm at 10 cars…
Occupation

Nerd
See details on my build
in this thread
We took a short trip up into the San Juans last weekend to test out the latest iteration of our camping set up on the R1T. The goal was to comfortably transport and house 4 people (2 big, 2 little) in the backcountry, and use electricity as the fuel for all of our cooking. I've been exploring the mountains for about 25 years, and doing vehicle-based overlanding for ~4 years, using a modified 100-series Land Cruiser as my platform.
I'll split up the sections below, so hopefully you can get the answers that are most interesting to you.
Consumption
Over the course of the trip we averaged 1.68 mi/kwh, over a 500 mile loop from Santa Fe (7100') through:
Pagosa Springs (7100', stopped to charge from 30%>80%)

Durango (6500', charged at our hotel from 55%>93%)

Purgatory (8800', charged from 70%>85%)

Off-road: Old Lime Creek Road which maxes out around 10000'. We camped along Lime Creek, at 9100'. Arrived at camp with 80%, left camp 2 days later with 62%
Back on road: Over Molas Pass (10800') and into Silverton (9300'). We arrived in Silverton with 50% SoC
Off-road: Cinnamon Pass Road over Cinnamon Pass (12460') I was a little nervous that my consumption on the way up was 0.28 mi/kwh, and I got down to 32% SoC, however, with regen on the way down, I got back up to 40%, and ended up at 36% when I arrived in Lake City.
Lake City (8700', charged from 36% > 80%)
Alamosa (7700', charged from ~25% > 85%)
Santa Fe (7100', arrived home with ~10%)
During the trip, I powered two refrigerators (ICECO Go20 in the frunk, plugged into 12V DC, set to 0º F and ARB Elements in the bed, plugged into 120V AC, set to 32º F) and used a
Greecho Induction Cooktop/Griddle
(rated at 1400W) and a
Breville Mini Smart Oven
(rated at 1800W)
Temperatures were very range-friendly. 70-80º during the day, 50s at night.
Cooking
In addition to the electric appliances mentioned above, I also brought a Camp Chef Rainier 2X as a backup. It was a good thing that I did, this time, as I discovered some holes in my approach.
Greecho Induction Cooktop Thoughts:
I neglected to bring induction-capable pots, so I could only use the Greecho with the griddle top. The griddle worked pretty well, although it would occasionally show an error on one side or the other, and then I'd have to unplug it and plug it back in to keep cooking. I absolutely love the size and weight of this thing, it's so easy to pack, fits nicely in my Zarges boxes. I'll give it a 7/10.
The surface didn't seem to get super hot. Fine for cooking bacon and potatoes, but I don't think it got hot enough to put a proper sear on a steak. I've already ordered the
Cooktron
and will test that out this week to see how it performs. I made breakfast burritos fully on the Greecho, and they got thumbs up all around.
Breville Mini Smart Oven Thoughts:
To me, there are two great luxuries in camping: cold ice cream and warm cinnamon rolls. I've used a Coleman camp oven for a few years, but it's a pain to temperature control, bulky, and annoying to set up and break down. The Breville works great, although I had to remove the handle in order to fit it into my gear case, and, without that weight, the door won't stay open on its own. I'm working on engineering some sort of fix there.
I was nervous about the 1800W rating, but it ended up never tripping the inverter, which was great news. However, with the Breville maxing out the truck, I couldn't also use the induction griddle, so I had to fall back to using the gas stove if I wanted to make some hot dogs to go with my baked potatoes. Next time, I'm going to bring a Jackery battery just to have some extra watts to play with while I'm cooking.
Loading the truck (what goes where?)
Frunk: (Fast access, weather safe)
ICECO Go20 Freezer
Billingham Eventer camera bag
Tom Bihn Technonaut 45 backpack (clothes)
Gear Tunnel:
(Long and Skinny Stuff)
2x Yeti Trailhead Camp Chair
2x REI Kids Camp Chair
1x Large Rolltop Table (I believe it's a now-discontinued one from Mountain Summit Gear)
2x Small side tables
This leaves a decent amount of space on one end, which I use to store:

Extension cords
Pump for air mattresses
Headlamps
Bike Helmet
On Rack:
(Bulky Stuff)
On top:

iKamper Mini 3.0 Tent
23Zero 270º Awning
Firewood (I'm going to buy a Yakima SkinnyWarrior basket for this, but for now I just strap it to the rack above the cab)

On the sides:

MAXTRAX XTREME recovery boards
Gazelle T4 Hub Tent

On the inside:

REI Camp Dreamer Inflatable Mattresses, strapped to the underside of the top of the rack (an XL and a Double, these go in the Gazelle)
BuiltRight Molle Pouches
In Bed:
(everything else, mostly cooking)
ARB Elements Fridge
Zarges Cases:

DOCK Outdoor Kitchen (this is built into a 40564 Zarges Case), holds disposable plates/bowls and cutlery
40564 Case: Food Storage & Greecho cooktop
40568 Case: Holds the Breville toaster oven and misc bits
40810 Case: Holds other cooking gear. Pots/pans/strainer/prep bowls/misc tools

Toilet: I've used a few of these, the latest being the Stansport Portable Toilet 271 -- I like this because it packs up much smaller than the cleanwaste, and it's taller so a little more comfortable. I use it with Cleanwaste wag bags. Would recommend. I had an extra Camp Chef stove carrying bag, so I put everything in there (and clearly mark the bag!)
Camp Chef Stove + Propane
Yeti Loadout Bucket + Utility Gear Belt + Lid -- I love this bucket, and have used it for years. On the way to camp, it holds a paper towel roll and any other misc odds and ends I grabbed at the last minute. At camp, I put an 8gal trash bag in it and it's our trash can. On the way home, it's full of dirty dishes ready to come in and get washed.
2-3x Dometic GO 11L Jugs + electric faucet. This is my water storage, at least until my sub-frunk water tank is ready!
Duffel Bag with clothes
Paper bag of fire starting accessories: fatwood sticks, some paper to burn
Camping / Misc Bits
We had been planning to move to doing two-vehicle exploring, using both my Land Cruiser and the R1T, but, after a test camp a few weeks ago, quickly discovered we'd rather all go together. So I picked up the Gazelle tent, and it's been great. Quick to set up/take down (probably takes me about the same amount of time as the RTT, if not a little faster), straps easily to the outside of the rack, and very comfortable (I'm 6'5" and can stand up inside). The only downside is having to find a big enough flat spot for it.
Speaking of which... camp mode auto-leveling is awesome. Both for the tent, and for using the tailgate as our primary cooking surface
I added the E-Bike (Specialized Turbo Tero X 6.0) to my kit a few weeks ago, and it's been fantastic. When we have a charging stop, I can drop the family off at a restaurant or park, start my charge, then ride the bike back to them. And, when we're at camp, I can use it to explore the area without having to break down the camp site and take the truck out. And I can charge it from the truck when needed.
To Improve:
My goal is to get everything dialed in over the next year– we go out at least once a month when weather and other travel cooperate. I'll post another full summary next summer, and will post updates as I go on
my build thread
, so subscribe over there if you're interested.
To Buy:

Induction-friendly pans
Yakima Skinny Warrior rack for over the cab

To do:

Zip-line electric wiring behind my builtright bed molle panels so I have AC easily accessible on both sides
Install my GMRS radio
Install lights on rack for general camp lighting (I have some from SLEE sitting around)
Put cooking spoons into my kitchen box so I don't have to stir alfredo noodles with a spatula
Install organizer in the frunk lid

To Research:

What's the smallest battery with 2000W peak AC output? How can I rig this up most efficiently?
Options for lighting for under rack and awning. The USB twinkle lights are fun, but they don't throw enough light to cook with.
Smaller freezer for the frunk?
Summary:
This truck is incredible. While I love my Land Cruiser, the Rivian is more comfortable, more capable, carries more gear, is way quieter, and is a winner on every front except convenience of refueling. I'm working on dialing things in over the next 6+ months in preparation for a trip to Big Bend in March. If I can pull that trip off (Big Bend is a charging desert, so it's going to require some creativity), then I'll probably sell the cruiser.
Also, get out and use your trucks. They are meant to be dirty and get scratched up. Go make memories and see beautiful things and share them with the people who you love.
Last edited: