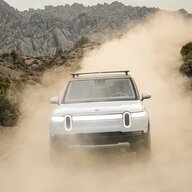 First Name

Mark
Joined

Feb 17, 2020
Messages
Reaction score

357
Location
First Name

Mark
Vehicles

1981 Volvo wagon; 2006 Tacoma SR5; 2009 Toyota Prius
I keep going back and forth between the R1T and R1S. I really like the practicality, storage and versatility of the R1T but the R1S, at 16.4" shorter, is more maneuverable and sleeker looking. Maybe a shorthand for the differences might be, one is more country, and one is more city. Also, one is slated to come sooner than the other, and for those of us losing patience, that might be important.
A while ago I started looking at camper shells and roof rack tents. R1Ts are often shown with Tepui rack tents, a product made here in Santa Cruz, where I live. I don't know what sort of relationship Tepui and Rivian have, except to say that as far as I know, there is no official Rivian-Tepui relationship. But it's likely that Tepui tents will be available and ready to go for Rivian vehicles.
After looking around, I heard about a company in Montana (
www.gofastcampers.com
) that makes camper shells and roof rack tents for specific truck beds. That is, shells and racks are custom designed to fit particular bed and roof sizes and, accordingly, nothing is yet available that fits a Rivian.
If practicality, storage and versatility are important to you, gofast campers and rack tents offer a lot. I especially like the up & down utility of the camper. You get sleeping space above and lockable utility space below. It comes at a cost, however. Camper shells are $6-7K, depending on size, and the chamfered aesthetics of the Rivians take a hit. How big of a hit is subjective, of course, but it's significant in my opinion.
Anyway, the forum might be a good place for sharing what we're learning about options, add-ons and extras for tricking out our rides. What thoughts do you have?