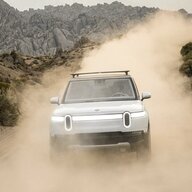 First Name

Mark
Joined

Feb 17, 2020
Messages
Reaction score

459
Location
First Name

Mark
Vehicles

1981 Volvo wagon; 2006 Tacoma SR5; 2009 Toyota Prius
GM's new EV and battery push is a big deal and its impact on the auto industry, including Rivian, may be considerable.
https://electrek.co/2020/03/05/gm-says-its-new-low-cobalt-ev-battery-cell-has-60-more-capacity/
The strategic foundation of any BEV undertaking is batteries. Their size, density, cost, durability and availability. As we know, there are competing battery chemistries, sizes, packaging and other factors at the industry level. At the company level, however, companies generally have to make choices. Rivian has, Tesla has, and GM is in the process of doing so. This presents a classic S-curve conundrum: get out front early and hopefully develop first mover advantages. Tesla has taken this tact. But, as the technology or, more accurately, technologies keep advancing, the second, third and fourth companies out of the gate are able to take advantage of the latest and greatest technical advances while the front runner may be stuck in its now old hat technology. To Tesla's credit, it keeps trying out new partners, chemistries, battery sizes and packs.
Rivian claims industry leading battery technology and I have no reason to doubt the claims, but in a fast moving, fast changing technology, like batteries for vehicles, industry-leading may be temporary. I haven't read which battery company Rivian is working with. Hopefully, it's more than one. Panasonic would be a good partner and one of Rivian's early investors, Sumitomo Corporation, may be helpful in this regard. LG Chemical is working with a lot of companies, including Tesla and GM. Ideally, Rivian is working with several suppliers and by doing so minimize supply issues but also invest in different battery chemistries, formats, form factors and the like. This is difficult for early stage companies because working with lots of different suppliers and technologies is very resource intensive.
Given that Rivian's skateboard will be the underpinnings for its own two models, R1T and R1S, plus Amazon Prime delivery trucks and a Lincoln SUV, its battery tech is creating a sizable beachhead in battery technology as it moves forward. But GM is spreading its battery tech across a dozen different models, and Tesla is deploying its battery tech across a half-dozen different models. The more models are in the field, the larger the number of users obviously and the greater the feedback on how one's battery technology is doing - its strengths and weaknesses. This is crucial to improving performance in rapidly changing technologies.
This is the strategic challenge: getting to market early, establishing a beachhead, accumulating experience but not getting locked-in with respect to pivotal systems and components because technologies will keep advancing and changing. I'm sure Rivian is well aware of all of this, but I wish it was more transparent with respect to the choices it's making. In particular, I would hope it is working with as many different battery partners and chemistries as possible. Yes, this is terrifically expensive and taxing of managerial & engineering talent, but in rapidly changing industries and technologies, it's the prudent thing to do.