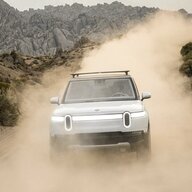 First Name

Mark
Joined

Feb 17, 2020
Messages
Reaction score

475
Location
First Name

Mark
Vehicles

1981 Volvo wagon; 2006 Tacoma SR5; 2009 Toyota Prius
Tesla will have its Battery Day soon, CATL has announced a Million Mile battery, independent of what it's doing with Tesla, LG Chem jumped to the number one battery producer position based on its ability to supply a large number of OEMS and its well located factories in Asia, Europe and N. America, and Panasonic, a fairly conservative company, is promising much higher energy densities in its 2170 cells which Tesla uses and Rivian will use (the 2170 cell design).
https://www.autonews.com/suppliers/panasonic-boost-energy-density-tesla-battery-cells-20
While CATL, LG Chem and Panasonic appear to be leading in the battery race, other Chinese, Japanese and S. Korean battery producers are in the mix. BYD, a Chinese electric vehicle maker supplies its own batteries and enjoys a hefty investment by Berkshire Hathaway. S. Korea's Samsung SDI and SK Innovation, separate firms, but they mirror each others operations with factories in S. Korea, China and Hungary. SK Innovation is also building a large plant in Georgia. AESC isn't in the news much, but it's another Japanese company that supplies Nissan products, like the Leaf, and it has operations in Japan, China, the UK, and USA.
So,
two big Chinese firms, two major Japanese firms, and three S. Korean
. One of them will supply Rivian, most likely LG Chem, which supplies GM and VW. CATL supplies Toyota in China as well as Chinese BEV makers. Panasonic is Tesla's GigaFactory I supplier/partner as well as a supplier to Toyota and BMW. There are no American major battery suppliers and it's unlikely one will emerge. It's just too late to join the party.
1. Does it make
a difference which company supplies Rivian
? All major suppliers have the capacity to supply Rivian, a relatively low volume producer in the first few years, but every company is working to extend the energy chemistry, density and longevity of their batteries and they all have proprietary technologies to do so. Whichever firm produces a breakthrough product, it will enjoy a few years of heightened demand before other firms catch up. It's also possible different sorts of breakthroughs will occur, more or less simultaneously, boasting different chemistries and productions costs.
So,
no, in the short-term
, it doesn't matter which battery supplier works with Rivian but,
yes, it matters in the long term
, as companies have proprietary technologies and knowhow. For this reason as well as reasons of avoiding supplier hold-up, Rivian should adopt a
dual sourcing policy
as soon as possible.
2. Another key issue is the
nature of the battery supplier relationship
. Batteries are not a standard, off the shelf component; a lot of R&D and product/process engineering are occurring. How can Rivian, a buyer of batteries, work closely with battery suppliers when so much is in flux and competition is intense? Not so easily, unfortunately.
The kind of collaborative partnership between supplier and buyer that would be ideal will be difficult to develop, unless some of Rivian's investors, like Amazon, Ford and Cox, bring their weight to bear on the matter. Then, it might be possible for Rivian to develop a close, collaborative partnership with a battery supplier where a supplier's research and development projects are keyed into Rivian's next generation vehicle development projects.
Last edited: