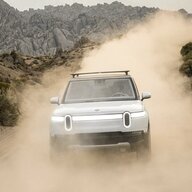 First Name

Mark
Joined

Feb 17, 2020
Messages
Reaction score

387
Location
First Name

Mark
Vehicles

1981 Volvo wagon; 2006 Tacoma SR5; 2009 Toyota Prius
I just came across Via Motors, and it opened up a whole new world (for me) of what the electrification of trucking means and how Rivian may or may not fit into the picture. (There's a lot of discussion on Via's website about BEV and PHEV systems and sub-systems.) Via's customers have driven 5 million miles using its technologies.
https://www.viamotors.com/
May or may not because Via Motors' mission is commercial trucking and, so far, Rivian's focus has been on moving people, not packages, except for Amazon's investment and order of 100,000 BEV vans by decade's end. But we know Rivian is making major adjustments to its Normal plant's operational layout and production plans to accommodate the Amazon investment and order.
It's a good thing for Rivian to be an
ambidextrous company
making vehicles for
carrying passengers and packages
. Some Rivian's strategy and branding will have to be adapted, but that's normal, especially for a startup. In general, what startups wind up doing is not what they set out to do.
The important point is the more BEV vehicles, the better, and serving both passenger and package transportation markets would be a great good thing for Rivian. The transportation world, and not just N. American "adventurers", becomes the market. At least, that's how I see it. How about other forum folks?
Last edited: