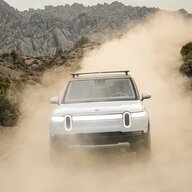 First Name

Mark
Joined

Feb 17, 2020
Messages
Reaction score

201
Location
First Name

Mark
Vehicles

1981 Volvo wagon; 2006 Tacoma SR5; 2009 Toyota Prius
I didn't know where to put this thread. At first, I thought I'd stick it into earlier battery threads, but they're weeks or months old and I worried new information would get lost by appending it to old threads. So, a new thread.
I'm not a chemist, engineer, scientist, technician or anything like that. (Just a retired business professor.) What impresses me most about Rivian is its willingness to take a great leap into the unknown, but do so methodically, thoroughly, patiently and reliably. Step by step. It's almost
a contradiction in strategy
.
Build the first all electric truck with terrific range, fantastic performance, phenomenal capabilities and unsurpassed utility. Wow, no one had done this when Rivian started out eleven years ago or even when Rivian announced at the LA Auto Show in 2018. Instead of bragging about what Rivian was going to be, RJ and his team set about making it happen, step by step, solving problem after problem, and doing the work itself because, at the time, no one else was trying to do what Rivian was.
Now Rivian's in the news big-time and competitors are coming out of woodwork, but RJ and the team are still low key, dedicated, persevering yet visionary with their eyes firmly on the ball. I don't think you can overestimate how impressive that is, and I can't wait until Rivians start rolling off the lines at Normal. Once Rivians are on the road and have been widely reviewed, RJ and the company's stock will blow sky high (skier high?).
But and, here's the point of a new thread, alternative energy technologies are pushing ahead at a rapid pace. In thinking about how to categorize them, it might make sense to classify them like this: 1) lithium ion and related battery chemistries; 2) solid state and non-lithium battery chemistries; 3) hydrogen and other non-battery based energies.
We could gather various threads on these topics and aggregate everything into one super-thread, but I'll leave that to the administrator to decide. For now, here are a few new sources of information categorized into the threefold scheme.
1. Lithium ion and related battery chemistries. (In spite of CATL's success, it's in a cat fight with Japanese, S. Korean and other Chinese battery companies for leadership in the industry. I wish new energy technologies/green new deal was a cornerstone of N. American government policies.)
https://insideevs.com/news/428508/catl-2-million-km-battery-not-tesla/
https://finance.yahoo.com/news/battery-billionaire-key-tesla-future-210015627.html
2. Solid state and non-lithium battery chemistries.
https://www.japantimes.co.jp/?post_type=news&p=2677779
3. Hydrogen and other non-battery based energies.
https://seekingalpha.com/article/4357682-chokepoint-of-hydrogen-economy
https://www.forbes.com/sites/kensil...gsaw-piece-for-green-microgrids/#79ccca955a74
Last edited: