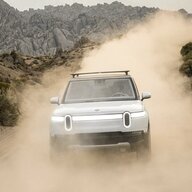 First Name

Mark
Joined

Feb 17, 2020
Messages
Reaction score

473
Location
First Name

Mark
Vehicles

1981 Volvo wagon; 2006 Tacoma SR5; 2009 Toyota Prius
A couple of times before, I've said how great it would be if Rivian would explore the adventure van segment leveraging its skateboard architecture and Amazon van models (there will be 3 Amazon models, all different sizes). The commercial van segment for carrying people would be another easy entry, new segment for Rivian, and it's quite large.
I'd gladly give up the frunk for a van's greater space and versatility, but not everyone goes for the van look as opposed to a more traditional two box style. I had a VW van a long time ago and came to appreciate its utility and versatility. Here's a Germany company hoping to revive the VW
van's utility with BEV underpinings
.
https://www.autoweek.com/news/techn...c-brands-ebussy-modular-electric-van-release/
Questions for forum members.
1. Do you prefer a van's one box design or a more traditional two box truck? If strongly one or the other, why?
2. If you were offered the choice as a preorder holder, would you choose a one-box van or two-box truck,
all else being equal
?
3. Do you feel there's brand inconsistency between Rivians carrying people and Rivians carrying packages?
4. Presumably a package-carrying Rivian wouldn't need air suspension, kinetic hydraulics and a motor at each wheel. If true, should a separate or sub-brand be created so that the "adventure" brand for people-carrying isn't diluted? (Obviously, there's overlap between questions 3 & 4.)