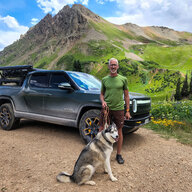 First Name

Joel
Joined

Apr 12, 2021
Threads
Messages
Reaction score

376
Location
First Name

Joel
Vehicles

'22 Hyundai Tucson Plug-in Hybrid
Occupation

Professor
I got my R1T (Artemis - goddess of wild nature) on May 10th. Didn't get my spare until June 6th so held off on wheeling.
On Sunday 6/19 4 R1Ts from the Colorado Rivian Club, and 1 from the Gateway Rivian Club, ran Yankee Hill Road west of Central City Colorado (Yankee Hill to Central City - Colorado Offroad Trail (trailsoffroad.com)). We ran the trail from East to West (backwards according to most sites/books), and took the spur up the actual Yankee Hill (steep and loose, Yankee Hill - The Actual Hill - Colorado Offroad Trail (trailsoffroad.com). Several of us had extensive wheeling experience. This trail is rated moderate in some places, and hard in others. Some sites and guidebooks use a 10 point difficulty scale and this trail seems to most commonly come out as a 4 or 5. The east half is fairly easy, but the west side is more difficult. All agree that it requires a capable high-clearance 4x4. I should note that we were all running the 20" all-terrains, and everyone aired down (some to 25, others including me. to 30).
I was in the lead (I was the only one who'd run the trail before), and relied on the in-truck GPS display for route finding after the first couple of turn options.
Was I impressed with the capabilities of the Rivian? Hell yes! The trucks kicked ass. I intentionally picked more challenging lines at times, and the truck never let me down. It actually made things a little too easy. Anyone who says that the R1T isn't up to the task of 4-wheeling needs to stick to mall parking lots.

Strengths
.
Adjustable ground clearance. I did not drag bottom at any point, but did come down on a rear control arm off one rock. Only once did I put it in "highest", most of the trail was run in "high".
Suspension. The ride was way, way smoother and more comfortable than my Xterra (3" lift, sway bar delete, fully armored) or Diesel Grand Cherokee Overland (air suspension, fully armored). Really, it was amazing how the truck soaked up the obstacles and caused minor occupant movement.
Power. The trucks just chugged up everything we threw at them. I was in Off-Road All-Purpose mode most of the time (see Weaknesses below).
Traction. The Pirelli Scorpions handled the trail without hesitation. Some sections were dirt, lots of rocks of varying sizes, and at least 1 very steep loose slope. When I did watch other trucks lose traction, it was typically only at 1 wheel, and even then the wheel speed stayed low, minimizing any trail damage. Everyone in our group did a great job with throttle control.
Downhill. With regen on high, I was able to come to a complete stop on steep downhills without ever touching the brakes. It was a bit weird to have to keep my foot on the throttle to make forward progress compared to my other vehicles that require braking.
Weaknesses
.
Really only 1 that I can think of. When you get out of the truck with it in Off-Road mode it'll try to go back to general All-Purpose mode when you get back in. There is a question on the display asking if you want to change, but it's easy to miss. On one section I got back in and must have missed the question. I started to drive and was surprised that I was suddenly getting proximity warnings going off even though I wasn't too close to any obstacles. The truck still handled the section fine until I figured out what was up. It'd be nice to have the option to make this default to staying in off-road mode.
We did have 1 mechanical failure on the run, ironically at the top of the steepest section when we were all out of our vehicles for a photo op. John's front driver-side suspension airbag blew. We were all standing there when we heard it. The rest of the airbags deflated on their own to match. He called Rivian but we weren't thinking it'd be possible to get a flatbed up there. In the end, John chose to not only drive down the steep slope, but all the way out to pavement. I'll let him chime in more if he's here and wants to, but he said it was a really rough ride, but he didn't mention any handling issues. My take was that it was good to know that even with such a failure, you could still get yourself out. We left the truck at the side of the road for it to be picked up today. It'll be interesting to see if it was one of the airbags or a hose.
There should be lot more photos and videos, and we flew several drones. I expect additional trail reports and photos/videos on Rivian Stories (
https://s00n.rivianstories.com/posts/24424809?utm_source=manual
for one).
Some videos to follow.
Last edited: