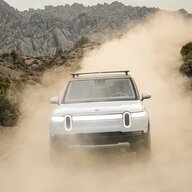 First Name

Mark
Joined

Feb 17, 2020
Messages
Reaction score

114
Location
First Name

Mark
Vehicles

1981 Volvo wagon; 2006 Tacoma SR5; 2009 Toyota Prius
Bloomberg just published this very detailed, wide ranging and revealing survey of 5,000 Model 3 owners.
https://www.bloomberg.com/graphics/2019-tesla-model-3-survey/market-evolution.html#intro
Most impressive to me, a non-Tesla owner, is the after-the-fact, continuous improvement (kaizen) model Tesla has adopted. The rest of the auto industry also relies on continuous improvement, but Tesla has been willing to get cars out the door quickly and fix things later while, at the same time, striving to improve quality on the production line. The willingness to sell cars early - some would say to use customers as beta testers - distinguishes Tesla.
It's an interesting trade-off: would you rather get your Rivian early and deal with some after purchase problems or wait to pick up a problems-free Rivian?
For us, that doesn't seem to be an available choice. Clearly Rivian is going for the problems-free delivery approach. I've already been waiting for 19 months. I'll gladly wait another 8-10 months for a problems-free R1S or will it be a R1T? I'm still stuck on that most basic of choices.