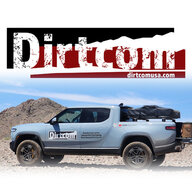 First Name

AJ
Joined

Mar 29, 2023
Threads
Messages
Reaction score

137
Location
Vehicles

R1T
Occupation

Automotive Design
INTRO
We made our own rollers to unmask some of the mysteries of Rivian's 4x4 traction control system and we uncovered some interesting finds. There is far too much info to type on this thread so I will give notes on the most difficult scenario. 3 wheels on rollers one wheel on ground. Which means only one wheel has traction.
@EVLander
was there for the test so he will have all the answers as well!
QUICK NOTES (only one wheel with traction, 3 wheels on rollers)
-
Sand Mode
Provides very high wheel speed. Not the correct mode to use when on dirt or rocks. Tires will spin fast and you will go nowhere.
*Recommendation- Don't use sand mode unless you're in sand or mud.
-
All Terrain
Wheels will spin and spin endlessly until you reach a certain accelerator pedal pressure. I found that if I you apply pedal pressure very slowly you will eventually reach the floor and you will still sit there and the one wheel with traction won't move. You will spin and spin.
*Recommendation- Apply pedal pressure quickly and smoothly to propel forward. Don't mash the pedal. If you do you will propel forward but in an uncontrolled manner. (We did this on the test and it was hilariously violent but it did work!)
-
Rock Crawl
Similar to All Terrain but more aggressive. The pedal pressure threshold is much lower. Meaning you can apply less pedal pressure to propel the vehicle forward. However if you don't apply enough pressure the wheels will continuosly spin and you will go nowhere.
*Recommendation- As the name suggests this is best for most low speed scenarios. Applying pedal pressure swiftly will get the vehicle moving. Don't mash the pedal unless you want jump forward uncontrollably (which is actually necessary in some offroad instances).
CONCLUSION

We also had a 2022 Tundra TRD Offroad on the test rollers to compare with Toyotas ATRAC system. The Rivian system is much smoother and quieter since it doesn't use brake pressure to redirect torque. Definitely superior. However, the Tundra has a rear locker. The Toyota rear locker was the quickest, smoothest, easiest, and most controlled method to propel the vehicle forward when only one rear wheel had traction. This is where the R1T falls short.
The hardware is there, but the software is not!
Last edited: