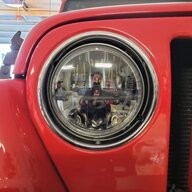 First Name

Rob
Joined

Nov 13, 2020
Messages
Reaction score

710
Location
First Name

Rob
Vehicles

Jeep TJ. Model S.
https://www.sec.gov/Archives/edgar/data/1874178/000119312521289903/d157488ds1.htm
Take Aways:
14

Directed Share Program - Preorder holders will likely be able to participate in the IPO in some fashion.

21

Preorders - 48,390 R1T / R1S as of September 30, 2021 in the United States and Canada.

100

R1S Deliveries Build starting in December.

101

As of September 30, 2021, we operated six service centers in four states (California, Illinois, Washington, and New York), 11 mobile service vehicles, a 24/7 service support center in Michigan, and have secured 24 RAN DCFC sites in seven states, 145 Rivian Waypoints charging sites in 30 states, and 20 service center locations for further expansion.

111

Delivery fee is likely $1,7XX
Autonomous Driving Fee is likely $10,000
Per vehicle 'subscription' (likely the Membership) is expected to be $5,500 over 10 years.

115

Higher performance and fewer motor vehicles are being planned for.

116

Driver+

11 cameras, 12 ultrasonic sensors, five radars, and a high-precision GPS antenna
We expect our platform's architecture will enable us to evolve and expand our Driver+ offerings to support SAE Level 3 autonomy

117

Rivian has plans for Fleet Management. Later in the doc is more detail about it.

119

Factory - 150,000 vehicles annually. Up to 200,000 vehicles annually in 2023.

120

Service

120 service centers and to deploy in excess of 1,000 mobile service vans in 2023
Our entire service infrastructure is shared by our consumer and commercial customers which generates operational synergies in both physical assets as well as labor. (Is this using Amazon locations as service centers?)

121

DCFC - RAN DCFCs are designed to output over 200 kW of DC power for initial R1 vehicles (up to 140 miles of range in 20 minutes), with over 300 kW planned for future vehicles. Oof.

124

R1S Camp Kitchen - A rear cargo mounted Camp Kitchen will also be available for the R1S
Amazon Vans - There are 3 different lengths. Range of between 120-150 miles.

126-128

Additional screenshots of app future functionality such as financing and service.

139

States they can sell in - Long list. Post here.

147

Board Members

Karen Boon - President of Restoration Hardware
Sanford Schwartz - Cox
Rose Marcario - Patagonia
Peter Krawiec - Amazon
Jay Flatley - Illumina (genetic analysis company)
Pamela Thomas-Graham - Dandelion Chandelier (luxo digital media)

156

RJ Salary - $1,300,000 all in salary and bonus. He also controls a tremendous amount of company shares.

174

Ford - They have purchased bodies in white from them in the past, but no longer do. They currently purchase tooling and experise.
Cox - Cox will be the reseller of any used Rivians, and likely trade ins. They will get preferential pricing on service on them and whatnot in exchange for marketing.

F-25

Rivian terminated a contract with a major supplier in 2019 and demanded repayment of $18M. They believed that it would settle for less, but in December 2020 made a call that they would never get that money back.
Last edited: