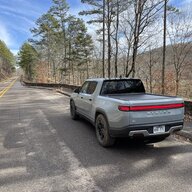 First Name

Matt
Joined

Aug 31, 2021
Threads
Messages
Reaction score

219
Location
Vehicles

F150, Explorer, Corvette C6
This happened on really short notice - so it was a bit of a whirlwind - but I was able to complete a factory tour and pick up of my new R1T Limestone/OC/Dark 20AT on the final day of Q3. It was a great experience! Here are some of the highlights of the tour and inaugural EV trip home.
I flew into Bloomington/Normal the afternoon prior to delivery. Easy logistics. It's a relatively small community and everything fairly close (airport/hotels/factory). Insider tip: highly recommend Destihl Restaurant and Brew Works for dinner - and it's walking distance from Hampton Inn.
I was overwhelmed with overall hospitality of all Rivian team members. Started getting messages from Delivery Host the afternoon prior with logistics details…then surprised to be picked up next morning at my hotel in a R1 from the Hospitality Team Leader and taken to the factory - very nice touch. Upon arrival at the plant, you get a definite west coast vibe… open atrium lobby with skylights, plants, coffee shop, gift shop, and lots of sitting areas being used by both visitors and employees. Large interior windows allow you to look directly onto the manufacturing floor. The place was bumping with lots of activity… a lot of employees mingling and several customers doing pickups. It appeared there has certainly been a strong push to finish Q3 strong.
The plant tour is conducted from elevated catwalks above the production lines. There is a single straight assembly line for the two sizes of Amazon vans, and a separate line for the R1. The R1 line does at least three 180 degree switchbacks - due to geometry of existing building. It appeared R1 line was 50/50 R1T and R1S - with each model randomly co-mingled in the line. Didn't appear to be any mass batching of colors, interiors, or models coming down the line - surprisingly random. It'd be nice to know the algorithm that determines what's getting made each day.
The level of automation and manufacturing technology is really impressive. Huge robots that are stamping, screwing, riveting, welding, lifting, these huge pieces along the line…and lots of assembly technicians interspersed along the line doing the detail work. It was truly hypnotic watching this huge procession of automation convert raw metals into finished product. Seeing the process makes you appreciate the cost of these vehicles!
As the R1(s) roll off the line, there are a series of QC stations to check various components and systems… and work stations to trouble shoot any that need extra attention. I got the impression that several of the QC tests were in response to issues identified by early vehicles - which makes you think early VIN problems should be getting better.
At completion of tour, your vehicle is parked and waiting for you in corporate circle drive. A delivery specialist spends about an hour going over the vehicle with you… and then you're driving off. Never having owned an EV before, I was faced with a 500 mile drive home…I'll write about newbie impresssions of the drive in another post - this post is already way too long.
Bottom line: if you can arrange a factory delivery, I highly recommend it. It was a great experience for me. i now have a greater appreciation for the sophistication of the manufacturing process and was equally impressed with the Rivian people I met. I sensed a simultaneous exhaustion and excitement about what they're doing…and certainly a feeling of "caring". The people I interacted with were excited for the customers taking delivery, and their enthusiasm was fun and contagious. It took me 18 months from deposit to delivery…and I've followed all of the frustrations about missed deadlines and vague communications…but getting to interact with the manufacturing team firsthand renewed the vibe most of us sensed in early RJ days - and made the wait worthwhile. It has restored a personal excitement for the vehicle. Well done Rivian!
….now for the drive home.